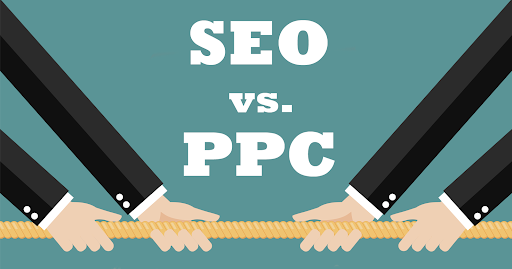 Are you confused about which is better, PPC or SEO? 
A lot of people have this question as to which is good for ranking. So, the answer depends on which type of business you are running. 
Your business demands and perspective can select one of them or also use both as well. This article will cover everything about SEO vs PPC, the pros and cons of SEO and PPC, and more. So, keep on reading till the end of the point. 
SEO Vs PPC
Here, we are presenting a chart form to describe the difference between SEO and PPC. Let's have a look below.  
SEO
PPC

It will help you to make your site trustworthy 

PPC cannot make your site trustworthy at all.

Organic SEO always takes the position below the PPC.

PPC can take your site to the first position in the SERPs.

SEO is free of cost because it can bring traffic organically. 

PPC (Pay Per Click) takes charges as the business has to pay per ad. 

SEO has occupied much more space than PPC. It 

Provides more information with maps, FAQs, Snippets and more. 

PPC occupies the prime space on the search engineer result page. These are the first things that the users see on the page.   
SEO: Pros And Cons
Before we get into the pros and cons of SEO, first, we have to come up with what SEO is.
SEO is an acronym for Search Engine Optimization that helps you to achieve a great position in the SERPs. If you are running an online business such as Content Marketing, without SEO, you can do anything. Let's discuss the Pros of SEO.
SEO Pros:
SEO is

cost-effective

when compared to other marketing strategies. You can use it for free of cost as well. 

It is

long-lasting brand awareness

. Yet, it takes time to come, but it has

sustainability

.

SEO can improve your brand trust. This is one of the best ways to do your business to brand organically.
Since SEO is free, so ROI (Return Of Investment) is higher than PPC.
SEO has the greatest role to build backlinks.
As we said, SEO is free. However, organic SEO can provide a better cost-per-click. Although, you do not need to pay for each click.
SEO Cons:
It is a time taking process. If you are thinking of improving your Marketing & Advertising process immediately, then SEO may not help you at all.
It is quite tough to gain traffic organically in SEO. If you want people to read, link to your website and share, you have to have an authority site.
SEO is not a quick solution in the online market. It will take a long time rather, and it can be said that it is an ongoing process.
PPC: Pros And Cons
First, we want to discuss what is PPC? Pay Per Click is a marketing process where users click the ad, and an advertiser pays a fee for their click. This process helps to get the first position in the SERPs.
Simply, it can be said that you have to buy the user's visit.  The process is completely opposite of the SEO process. Let's come to the pros and cons of PPC.
PPC Pros:
It can gain more viewers than SEO because Google places PPC ads on the top of the SERPs. Where people put their attention and click on that. 

PPC can help you to get a target audience with the help of brands, devices, locations, language, right keywords and more. 

PPC has control over the market and

online promotion

. You can decide which keyword, CTA, landing page and pricing you want to mention. 

PPC always works fast. It cannot take so much time. Once the PPC campaign starts to work, you will get the result immediately. 

PPC can help you to get your target traffic on your site. PPC always provide more traffic to their customers 
PPC Cons:
Without money, PPC cannot work. When you stop paying money, it stops working automatically. 

It is not trustworthy. If you want to make your website authoritative to Google, PPC cannot help in this regard. 

The ROI cannot fully fill your demand. PPC cannot return what you invest accurately. 
Which Is Better: SEO Vs PPC
SEO vs PPC, which is better for marketing strategy. These two things depend on your marketing strategy and purpose.
Most importantly, your customer's desires and your demand are the first priority. You always keep this in mind when you choose between PPC and SEO. If you want instant traffic, conversation, and clicks, then you can go for PPC.
Or, if you want to rank your website organically for better sustainability and long-lasting results, then you should go for SEO.
SEO And PPC
If you want to get both SEO and PPC together, then welcome to take this idea. You can make your common goal to use them for your website simultaneously.
 

It will help you to get organic traffic and paid traffic at a time. 

In collaboration with SEO and PPC, it allows you to get more chances of featuring at the first position of SERPs.
Final Words
SEO and PPC are both important parts of SEM (Search Engine Marketing). It means you can choose both promoting and marketing your business online.
If you have any questions about SEO Vs PPC, you can ask by commenting below. 
Or, you can visit our website for more information reading digital marketing, social media marketing and more.